Hello dear friends! For the first time
ever
, I'm participating in: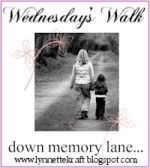 hosted by Lynnette Kraft's blog - Dancing Barefoot On Weathered Ground. I'm SO excited to start joining in on this every Wednesday that I can! Even though I'm not a momma yet (like I know a lot of you are that already read Lynnette's blog), I hope you will still enjoy my special memories.

This Wednesday's Memory:
Well... this is a really wacky memory of something that actually happened just last night. Shauna, my thirteen year old sister who I love with my WHOLE heart said something that made me die laughing! I was sitting at my computer, chatting on messenger with a few friends, and listening to her constant chattering (in an effort to get my attention drawn away from the computer no doubt). Suddenly, I glanced over and she was pulling her pajama pant drawstrings straight up towards her shoulders. She laughed at me and then said "Look! They're... they're dentures!" I couldn't contain my glee any longer and burst out laughing. Between giggles, I eventually said "Shauna... those aren't called dentures! They're ummm... ummm" and my mind went blank because I was laughing so hard. I finally said "Suspenders!!! That's what they're called!". We both got a huge laugh out of it. I love her so much... she brings smiles into my life.
Happy Wednesday! Thanks for dropping by!